Preformed Garden Ponds
Things to consider before you buy a preformed garden pond system.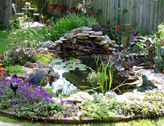 Inexpensive kits are available for preformed garden ponds.

For anyone who wishes to bring more wildlife into their backyard or who would like to improve the decor of their garden one of the best and easiest things you can do is add a preformed garden pond.

You can find plenty of inexpensive kits which are also easy to relocate should it become necessary. Preformed garden ponds are created by using a composite material.
First steps to installing a pond
When you get ready to install your pond, the first thing you have to do is dig a hole where your pond will be and then you put your preformed garden pond liner into the hole. Afterword, you will be able to decorate the pond by placing rocks, various kinds of plants, and maybe a log or two around the pond for a natural appearance.

Hazards of electricity near water
Anytime you install a preformed garden pond you also have to include a pump for water circulation. Consider putting your pond closer to your home so you won't have to use as much wire. However, if you don't mind spending some extra money, you can place your pond wherever you like.

Whenever you use electricity around water there is a chance of getting a shock, it is suggested that you install a ground fault interrupter, or GFI, into the pump's circuitry.
Dealing with rainwater runoff
Inspect your property for low areas to keep rainwater runoff from getting into your pond. The last thing you want to do is put your pond in a part of your cottage garden that is lower than the rest of your property. If you put your pond in a low elevation spot, lawn chemicals, such as fertilizers, can be washed into your garden pond and contaminate it as well.

Try to avoid this whenever possible. If you plan the location of your garden pond in advance, it can keep you from having to move it after it has been installed. Depending on where your plants are located in your garden, you may need to relocate them away from your pond. If you have large trees or if there are tree roots growing in the location of your pond you will probably have to move your pond to a different location. If you don't want to put your pond somewhere else, you'll need to cut the tree roots and put something in place to prevent the tree roots from growing back. It is best to keep the tree standing because the tree will create shade for your pond.

Staking out garden pond location
When you're ready to install the pond liner, place it on the ground in position in the location where you've decided where your pond will be. Hammer wooden stakes vertically into the ground around the outside of the pond liner. Use string or rope and to wrap around the base of the stakes to form an outline of the pond liner.

Digging the hole for your pond When you've done that, take the pond liner and move it aside so it'll be out of the way - then you need to start digging the hole for your pond! Make sure to keep the sides of the hole vertical. Now take your liner and place it in the hole.

Making the pond liner level
Find a straight piece of lumber the length of the width of your liner and place it across the liner; use a carpenter's level to check the level of the pond liner. Turn the wood and check the levelness of your pond liner on all sides.

Supporting the liner with sand
Put sand into the hole under the liner and around all sides of the liner. Make sure you pack it in nice and tight. This will support the pond liner in the hole. When you are done packing the sand in around all edges, re-check the level of the pond in all directions to make sure it is still level.

Decorating your garden pond
When you are done with packing sand around your pond liner you can start to decorate your new garden pond. You can plant some vegetation around it and place a few stones for a natural appearance. An easy and inexpensive way to make preformed garden ponds look great at night is to use solar powered lights.

Adding solar powered lights
Since they are solar powered, there are no wires to hide and you can easily move them around the pond until you get it to look just right. The fact that they won't add to your electricity bill is a plus.
---
About the Author: Thomas is a freelance writer who writes for Garden Decor Fundamentals
Article Source: ArticleBase.com


---
Garden Pond Photos courtesy of: Pondliner.com.