Main Cottage Garden Furniture Pieces
Fun and practical focal points in your cottage garden.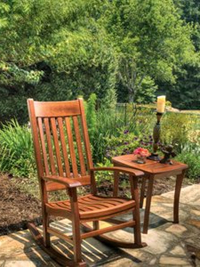 Special furniture designs
Garden furniture is specially designed for use in the outdoors and can also be used on your patio, deck or in your backyard. This kind of furniture can transform a boring space outdoors into a focal point that is delightful to look at, while at the same time it becomes a comfortable and expressive space. Garden furniture is usually made of materials that are weather resistant and durable. There is a wide range of garden furniture to choose from, but the main pieces to design and build your outdoor comfort area outlined below.

Garden chairs
There are a variety of chairs for gardens. They come in different styles and designs including hanging chairs, rocking chairs, stationary chairs and folding chairs among others. They are also in a variety of materials including wood, teak, wrought iron, resin, wicker and metal among others. The various comfortable designs allow one to enjoy relaxing outdoors.
Garden tables and unique table tops
Garden tables vary in size from small to large depending on their use. They are also in different shapes including round, square and rectangle. Based on what you need, and how you plan to use tables in your garden, the types of tables to choose from include picnic tables, patio set tables, side tables for lamps and other types of outdoor lighting, coffee tables and bistro tables among others. There are also stationary tables and folding tables. Outdoor garden tables are made of durable materials like wood, aluminum or plastic among other materials. Some are complete with tops, while others are pedestal stands where you can add a glass top or another type of table top unique to you. These are fun to experiment with if you are the type of person who shops antique stores, estate sales or tag sales where you can use many different types of items to create a stunning garden table top.

Garden benches hidden everywhere
Outdoor garden benches are usually simple and beautiful. They can be placed beneath a tree or anywhere else outdoors. A wide variety of designs are available including those with a back and backless ones in a wide range of colors and materials. Some bench materials used include stone, metal, plastic, wood and wrought iron. Many cottage gardeners place multiple benches throughout their cottage gardens to take advantage of little pockets of peace and private sanctuary. They're also excellent to strategically position throughout your garden to always be in the shade as the sun travels during the course of a day, tucked away and hidden from the heat of the sun's rays. Benches are excellent places to have intimate private conversations, relax with a cold drink and enjoy a few stolen chapters from the latest bestseller. When placed near a fountain or garden pond you get the extra pleasure of the soothing sounds of water while relaxing with your favorite pastime activity.
Chaise lounge comfort
The slanted surface of a garden chaise lounge chair makes it an easy to maintain piece of garden furniture. The angle of the back of the chaise keeps it from collecting a lot of dust, leaves or rain water. A chaise lounge chair is usually long and has a a backrest on one side. It is long enough for you to stretch your legs while relaxing. They are available in unique styles and a variety of materials including plastic, wood and metal. Add stripe or floral print pillows and cushions to add to the comfort and place your chaise lounges where you like to relax in your garden, or anywhere else in your backyard, on your patio or deck, and even next to a pool if you have one!

Swing the day away in a hammock
These are very popular for relaxing outdoors. It is a kind of sling made from fabric and suspended between 2 points made of wood, metal or iron. The fabric could be cotton, canvas or polyester. There are a variety of colors, designs and styles to choose from. Their sizes range from a one person hammock to those that can accommodate two, three or more people.

Outdoor sofas
Outdoor sofas come in different designs and styles including those with armrests and others without. Some are upholstered while others are not. They can have a four leg base, x-base or panel base among other bases. There are also different sizes of sofas like 2, 3 or 4 seater. One can choose from a variety of materials like aluminum, steel, wicker, wood or teak. The shapes and colors of these sofas are numerous.

Outdoor furniture as an extension of your home
Those who love the outdoors and their cottage gardens should try to select the right garden furniture as it could make the outdoors an extension of your home. It makes the outdoors and the seeing the results of your hard work in your cottage garden enjoyable and also comfortable for you, your family and guests. A wide range of furniture is available to suit the needs, style and budget of every cottage gardener.


---
About the Author: Gabriel Meriwether writes about patio furniture and patio dining sets and provides valuable information about purchasing garden furniture.
Article Source: Gabriel Meriwether

---