White Picket Fences
A white picket fence can add value to your home for a minimum investment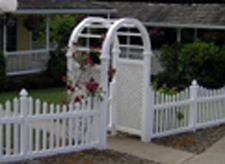 Classic and most endearing fence style
There are many choices in fencing materials. One of the classic and most endearing is the picket fence. These types of fences are particularly popular in the United States and England. Below is information on picket fences and how you can add this charming fence in your own garden.
The picture of charm
A white picket fence is the perfect picture of charm. Many people love the way a white picket fence looks, but they feel that it could be impractical or difficult to maintain. If a picket fence is constructed properly, it's a simple and enduring home improvement project. It can also add a significant amount of value to your home for a minimum investment of both time and money.

Traditionally, picket fences are made from wood and then stained or painted to match a home's decor. If maintaining wood is too time consuming for you, and you prefer a more maintenance-free option, you can choose a synthetic material. These choices come in several colors and are relatively easy to install. Contact and talk with the home improvement store where you purchased your picket fence and make arrangements with them to install it for you. Keep in mind that this option is going to be more expensive than wood, so count the cost before you decide to invest in a non-wood picket fence.
Buy assembled or make your own picket fence
A wooden picket fence can be purchased already assembled in sections or you can make your own. If you choose the pre-assembled choice, you can once again have the home improvement store install it for you. If you make it yourself though, you can save a considerable amount of money.

A wooden picket fence is easily constructed. Measure your yard to determine how much wood you'll need. Mark the places where you'll be placing the posts. You'll want to bury the fence posts fairly deep and if your soil is soft, it is advisable to use a stabilizing agent such as concrete. You want the top of the posts to come up a little higher than the rest of the fence, but not significantly. Once the posts are in the ground it's best to wait a few days before installing the rest of the fence to let the soil and concrete settle.

Constructing the picket sections
To construct fence sections you'll need two support beams and the actual pickets as well as the nails you'll use to hold it all together. Decide how far apart you want each of the pickets. Use a pencil to mark where you want to place the pickets on both support beams. Make sure the supports are level and even so your picket fence is not crooked. Then, simply nail the boards in place. Make sure you leave enough room on both ends to attach the picket sections to the posts. Then you simply make enough sections to complete your entire picket fence.

When you're making the gate you'll build it pretty much just like the other sections of your picket fence. You should, however, add a cross beam for support since it'll experience more use and stress. There are a variety of hinges and handles that you can purchase at any home improvement or hardware store to complete your desired look.

A picket fence can be a wonderful and charming addition to your home and cottage garden. It's a relatively easy home improvement project that anyone can accomplish as long as you do adequate planning and preparation.
---
About the Author: Joseph Then writes about better home improvements and home and cottage garden fences.
Article Source: http://EzineArticles.com/?expert=Joseph_Then


---