Move Outside Into Your Cottage Garden
There are sofas, chairs and covers made out of waterproof materials.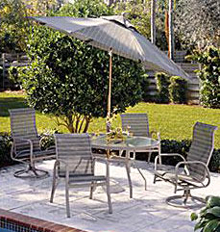 Relaxing garden get-togethers
It's summer, humidity is low, and a light breeze is flowing throughout your garden. You want to sit outside in your garden and enjoy the beautiful weather, perhaps invite friends and family over for a barbecue, but you are a little short on seating for your guests to relax and enjoy themselves. This is a situation where some outdoor garden furniture would definitely make the day much more enjoyable!

Variety of styles and pieces
There is a wide variety of outdoor furniture styles and pieces for you to choose from these days. From weatherproof tables, made of plastic glass and steel, with umbrellas to keep you cool in the shade, to whole entire dining sets. The right piece, or pieces you need to make your garden get-togethers more relaxing and fun are out there waiting for you to add to your garden, backyard or on your patio.
Waterproof materials
There are outdoor sofas and chairs made of waterproof materials. There are also covers to slip over any piece of outdoor furniture that may not be quite as waterproof as you would like. Wood or wicker tables, chairs and other seating, can be purchased that are already protected from the elements, or you may have the option of doing it yourself with the use of store bought products.

Keep the rain off
Perhaps it's the rainy season, but you don't want to spend all day sitting inside. There are many huge umbrella attachments that not only protect you from the sun, but also help to keep the rain off. There's no reason for most people to have to be locked up inside, if what they want to do is be outside. Rainy weather can be good for your garden, soothing, and refreshing, but you or your guests don't need to get all wet in order to enjoy your get-togethers during this type of weather.
Protecting your wicker further
Maybe it's the dead of winter and the ground and all of your flowers are covered with snow. If your garden furniture has been weatherized there is no reason you can't bundle up and still enjoy the day while resting on a comfy chair. A lot of people enjoy cold weather, but with no dry seating it can be uncomfortable being outside.

Escape to a quiet place
Sometimes, no matter what the season, you just want to escape to a quiet place, away from chaos and of being confined inside all day. Having an area outside where you can go to clear your mind might be just the ticket to feeling a bit more refreshed.

Buzzing bugs
Talking and hanging out your family in your garden often adds a sense of closeness you can't achieve sitting in front of the television. Cooking and eating dinner outside can create a whole new world for you and your family and friends to enjoy. Just grab some bug spray to protect yourself from the buzzing bugs and let the adventure begin.

Bring inside comforts outside
With the use of outdoor furniture you're able to bring inside comforts to an outside area. You'll be able to get some fresh air and relax and have fun with the people you love, while taking in the sights and sounds of the natural world of your garden that surrounds you.


---
About the Author: Gabriel Meriwether writes about patio furniture and patio dining sets and provides valuable information about purchasing resin wicker patio furniture.
Article Source: Gabriel Meriwether

---