How to Build Stone Steps into a Hill or Down a Bank
Expand up a hill or down a slope with stone steps.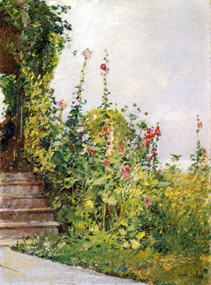 Think of your garden steps as a way to go from point "A" to point "B". The first thing you need to consider is how many steps you will need to get from that point "A" to point "B" in your garden. This is easy to do using a line level. A line level is a small level that can be attached to a string.

Determine how far your steps need to climb.
Attach the line level to your string and secure one end of the string to the point where you want the top step to be. While standing where the bottom step would be, pull the string tight and adjust it up or down until it is level. Hold the string level and measure the distance from the ground to the string, to determine how far your steps need to climb.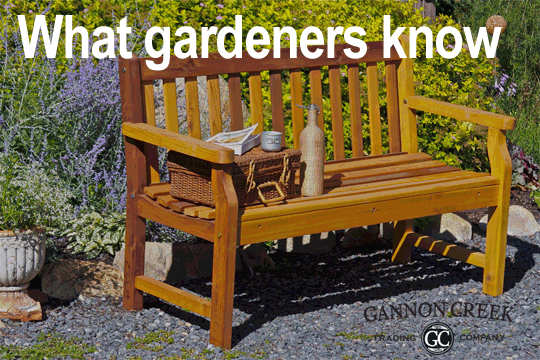 Large flat flagstone pieces
Now that you have the overall height of the steps, you can determine how many large flat pieces of flagstone you need--keeping in mind that individual steps feel comfortable when they are between 5" and 7" high.

Choose 2" thick stones
You will need to purchase large flat pieces of flagstone --for the step stones-- try to choose stones that are about 2" thick, give or take a 1/2" (this thickness will give you good strength without too much weight). You will also need an assortment of smaller pieces (for adjusting the height of your steps). If you are not sure where to purchase flagstone, check with a local landscaping company-- if they don't have it, they will likely know where to get it.

Use crushed rock for solid base
You'll need 1/4" minus crushed rock to create a solid base for each step. Minus crushed rock is finely crushed rock that is no larger than 1/4" that also includes much finer material. Minus rock compacts well and makes the solid base you need for each step. The amount of crushed rock you will need will depend on how many steps you're installing- you'll need a few 2 gallon pails for each step. Check with your local landscaping company to find this product.

Choosing the first step
Choose the stone that you want for your first step. Dig a hole straight back into the base of the bank - just big enough to accommodate the stone. Choose one or two small pieces of flagstone and build a "dam" all the way across the front of the hole - this helps to contain your crushed rock.

Constructing the dam
The "dam" should be high enough to make your step the desired height after you place your large flat stone on top. For example, if you want 6" high steps and your large flat stone is 2" thick, your "dam" should be approximately 4" high. If your "dam" is two or more layers of stone use a bit of landscape block cement between layers to secure them.

Compacting the dam
With your "dam" in place, fill the hole behind it with crushed rock. Use a short piece of 2" x 4" lumber (about 12'' long) to pack the crushed rock by holding the wood flat on the surface of the crushed rock and hitting it firmly with a 3lb hammer- wear work gloves and watch your fingers! Go back and forth over the entire crushed rock surface several times until it is well compacted. Add more crushed rock and repeat until the level is about 1" below the top of the "dam".

Fill the hole to the top
Add enough crushed rock to fill the hole to the top of the "dam". Use a carpenter's level to make sure the crushed stone surface is close to level. Place your large flat stone on top and check it for fit and level.

How to adjust the front step
You can make minor adjustments to the front of the step by inserting slivers of flagstone between the step stone and the top of the "dam". If you can't find the thickness of sliver that you need, you can flake slivers off a larger stone using a masonry chisel- remember to wear safety glasses and gloves. These adjustment slivers can be secured by applying a bit of landscape block cement to them before inserting. You can also make adjustments by placing the 2" x 4" piece of lumber on the step and pounding it down, or by lifting the stone and putting small amounts of crushed rock in low spots.

Now that your first step in place, dig straight back into the bank from the top of your first step and repeat the process until all steps are in place.
---
About the Author: Jeff Galbraith is a contributing author of Shades of Green
Article Source: ArticlesBase.com -